seven-cli
Send SMS via command line out of Windows, OSX and Linux
Send SMS via Batch
Use our free tool seven-cli for an easier interaction with your application. Send SMS directly via the command line via seven. Manually or automatically by your software. seven-cli supports all functions of our SMS Gateways.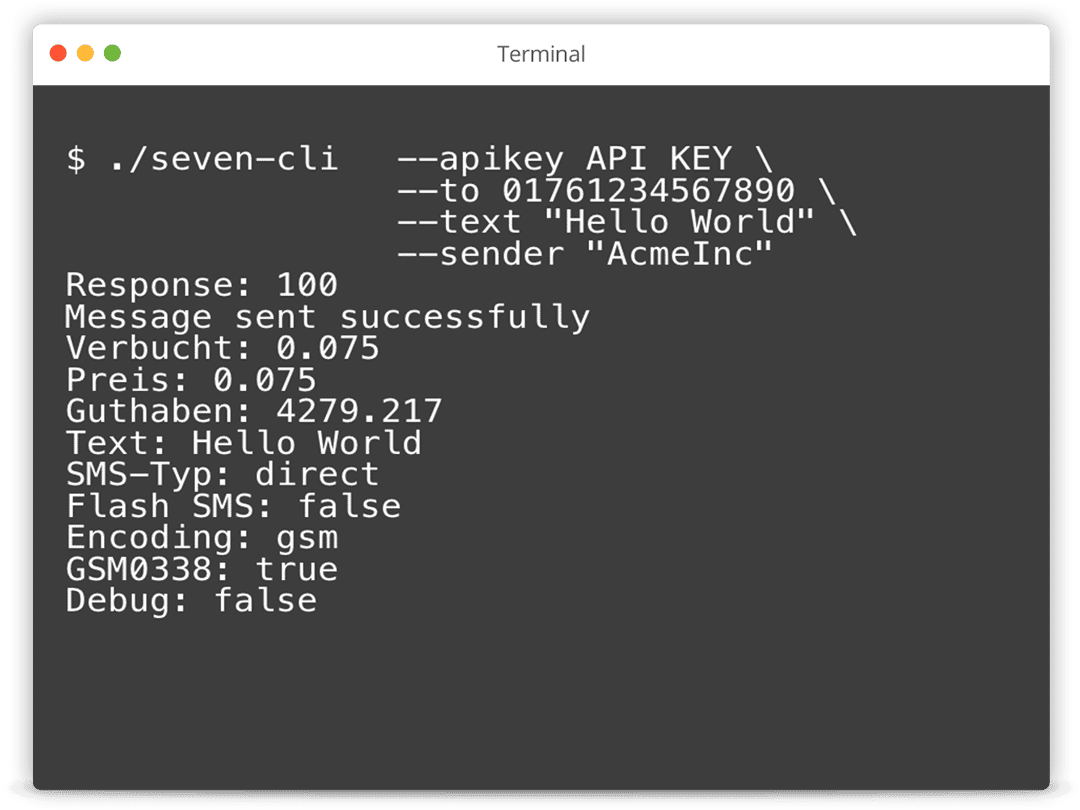 Parameter or config file

All parameters can be defined optionally direct as an argument when calling or in a config file.

Debugging

You can use the debug function to test seven-cli without sending an SMS.

Test alarm

Configure fixed daily times for which no SMS is to be sent. Useful e.g. for fire brigades, which have fixed times for a test alarm every day.
Feedback via error level

Via error level, the tool provides your application directly feedback on the success of the SMS transmission for further evaluation.

Logfile

seven-cli creates a detailed logfile for you to understand the function of the tool

Lightning-fast

Due to the direct connection to the SMS gateway, your SMS will be sent immediately via seven-cli.
Available for all common systems
We already offer builds for Windows, OSX and Linux. If you need seven-cli for another operating system, please do not hesitate to contact us. It doesn't require any installation and because of the small file size and less required resources, our tool is also easily usable on small computers.
Use Cases
One application of seven-cli is the secondary alerting of fire brigades. Numerous customers use seven-cli for alerting firefighters. The integration is perfectly tailored to the need of fire brigades, so that they can concentrate on their essential work.
Transparent and fair – Prices to send SMS
Simply top up your credit balance and pay only the SMS you send. There will be no additional costs for you. All features like the API, Email2SMS etc. are available free of charge for each account.
Direct SMS
0,075 €per SMS*
Worldwide sending
Own sender
Free response
Port numbers
Delivery report
Flash SMS
Unicode messages
100% Guaranteed delivery
*All prices plus 19% VAT. The prices are valid for a sent SMS with 160 characters. Messages with more than 160 characters are calculated according to the number of sent SMS, in which for each SMS message 8 characters less are available. An SMS with e.g. 310 characters would thus be calculated with the triple SMS price. For SMS with unicode characters, i.e. characters which are not included in the standard GSM alphabet (e.g. cyrillic, arabic, etc.), only 70 character per SMS are possible. The price above then applies to 70 characters. No transmission to special phone numbers.