How SMS improve communication in day care centers
There are many challenges in the everyday life of a day care center. You, as educators and supervisors, give your best every day. You take care of the children's needs, you organize daily life, plan events and master numerous conversations with parents. Your communication has to meet many demands, but it should definitely not be complicated. We would like to give you eight reasons why SMS can make your work more effective and enjoyable.
With SMS you can reach all parents regardless of the phones, operating systems or apps that they use. It does not matter if someone does not want use WhatsApp due to privacy concerns or just likes another messenger better. You do not even need an internet connection: If the parents have a cell phone, you can reach them.
If you send via a gateway, sending SMS is easy and does not require much effort. Another advantage: SMS are also suitable for people who have physical limitations or struggle with language barriers, because they can easily be read and translated by help programs.
This way, you create fair communication in which everyone is included.
2. You do not have to receive answers…
The staff of day care centers needs to be in close communication with parents, but communication in large messenger groups is often confusing and extremely extensive. Important information can get lost very quickly. Every now and then you just want to send a simple message – no more, no less.
With bulk SMS, you communicate professionally, effectively and in a targeted manner. You can also specify a sender name, so parents know immediately who is writing to them.
If you do not activate SMS reception, the recipients cannot reply directly to the SMS and there will be no group discussions. If parents want to talk to you about the message, they will have to contact you by other means. In this way, you make sure that you are only involved in the really important issues.
3. …but you can receive answers.
Then again: maybe you want parents to be able to reply to your sent SMS? No worries, this is also possible, of course. If you use your own inbound number, you will receive replies to your SMS conveniently and neatly arranged in the webapp.
Parents only pay what they would normally pay for an SMS. If they are on an unlimited plan, replies for parents would even be free of charge. You do not pay for incoming SMS, but only a fee for your own inbound number. This inbound number helps day care centers create a communication channel that enables a structured and well-organized exchange of messages.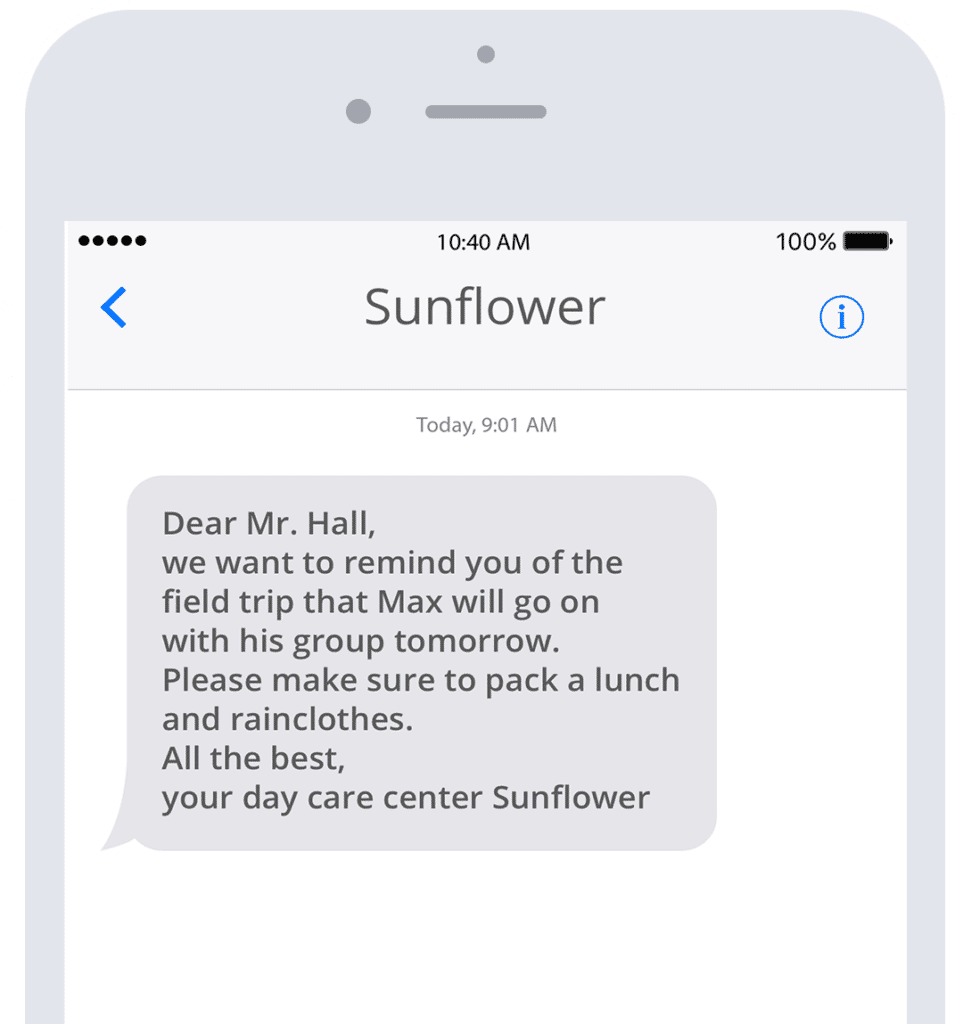 4. SMS can be personalized
As already mentioned, you can also send bulk SMS. It is important to note, however, that the personal touch does not have to be neglected.
By using placeholders, you can address the respective recipients by name, even in bulk SMS. In addition, you can also insert other personal characteristics, such as the child's group name. This saves you time while you still communicate personally and individually. The only prerequisite is that you maintain your data well. Only then can personalization be successful.
If you want to expand this personal communication and save even more time, you can also send pre-planned SMS on special occasions. Plan in advance to send out invitations to events, such as an open house or summer party, to make sure that all parents and staff are informed.
Very specific messages related to you day care center, such as reminders of closing times and excursions can also be pre-planned easily. If you wish, you can also send an SMS on the child's birthday to wish the child and family all the best.
6. SMS are reliable and effective
Speaking of invitations: How often have you had a note with important information never reach the parents, because it got lost in the magic realm of the child's backpack?
Of course, this will not happen to you with SMS, but there are other good reasons to fall back on the short messages. More than 90% of all sent SMS are read within the first 3 minutes after receipt. You can be sure that no other messaging channel has such a high and fast reading rate. Because we all receive much less advertising via SMS than via e-mail, the information also feels more important, making it easier for the parents to remember.
By the way: For this reason, SMS are also ideal for communicating spontaneous changes. If the day care center has to close due to illness, all those affected can be informed quickly with a bulk SMS. As you know, a fast and reliable means of communication is worth its weight in gold in times of a pandemic.
7. The switch to SMS is good for the environment
Another good reason to send SMS in day care centers is the aspect of sustainability. Regardless of whether or not the invitations and other information in the magic backpack are forgotten: The trend is moving away from paper and towards digital. This is also the case because reduced paper consumption is more sustainable.
By sending SMS not only do you benefit from their reliability, but you also do something good for the environment. Invitations and information via SMS not only mean less waste and less used paper, they also score points with a better carbon footprint. In a field where it is difficult to save resources, small steps like these are particularly valuable.
8. Communication can be organised and examined
Your everyday work at the day care center is full of complex tasks that need to be handled with empathy and organizational talent. It is of great help to you when processes are well structured, clear and comprehensible. Many SMS providers offer different possibilities to mark and arrange messages and groups. With seven.io, for example, you can mark certain messages with labels and see at first glance what kind of SMS are sent most frequently.
If you want even more structure, you can also create subaccounts for the different groups, which have their own individual credit and can use labels for more detailed information. Furthermore, you keep control over your costs and you can decide whether you want to top up your credit automatically or manually.
As you can see, there are many good reasons for switching to SMS at your day care center. In any case, you can make your communication more inclusive and effective without losing the personal touch. You save time, can pre-plan messages and make a positive change for the environment on the side. Since you can control the costs and there is no set contract duration, you can simply try sending SMS at seven.io after a short registration.
Source of header picture: iStock.com/kali9