Send COVID test results: Text messages reach the public effectively
Here we are, early spring 2021 and COVID is still here. With the German federal government's decisions on how to proceed with the COVID pandemic, it's not just current incidence rates that have become the linchpin of public life. In some states and cities, shopping at non-essential stores is permitted if the person can show an up-to-date negative test result.
As the demand for testing increases and the incidence rises, the burden on the health care system increases. There is a very effective way to relieve staff and still reliably inform the tested people about their COVID test results: text messages. SMS text messages are also an excellent choice for private testing providers. In this post, we would like to show you why exactly the short text messages are better suited for this task than any other medium and what you need to look out for if you are now looking for an SMS gateway provider on short notice.
Why are text messages the best choice for COVID test results?
There are many ways to reach people. Especially in the case of contacting patients, or tested individuals, the demands on the medium are as varied as the people you are contacting. Personal preferences of the recipients, for example, play just as much of an important role as the accessibility of the medium itself, the effort associated with the contact and the feasibility on your side. SMS combine numerous positive aspects that contribute to overcoming this challenge. Would you like to hear the details? Let's take a closer look together.
Universal accessibility of test subjects
Because people from every age group and social class are being tested, you cannot assume that all of them have the same technical expertise and preferences. Some people do not want to or cannot download an app, others do not want to be called, and the younger generations prefer to be contacted via text message. Communicating via messenger presents its very own challenges, and an Internet connection is necessary for this way of contacting people as well. With SMS you solve all of these problems at once. You can reach almost anyone in the world, without any extra effort for the recipients.
More time for other tasks
Testing many people takes a lot of time. Especially the notification of negative test results by employees is very time-consuming. With an automated, personalized SMS, those tested negative are informed quickly and effectively. Your team can thus fully focus on those who have tested positive and have more time for other important tasks such as the contact follow-up.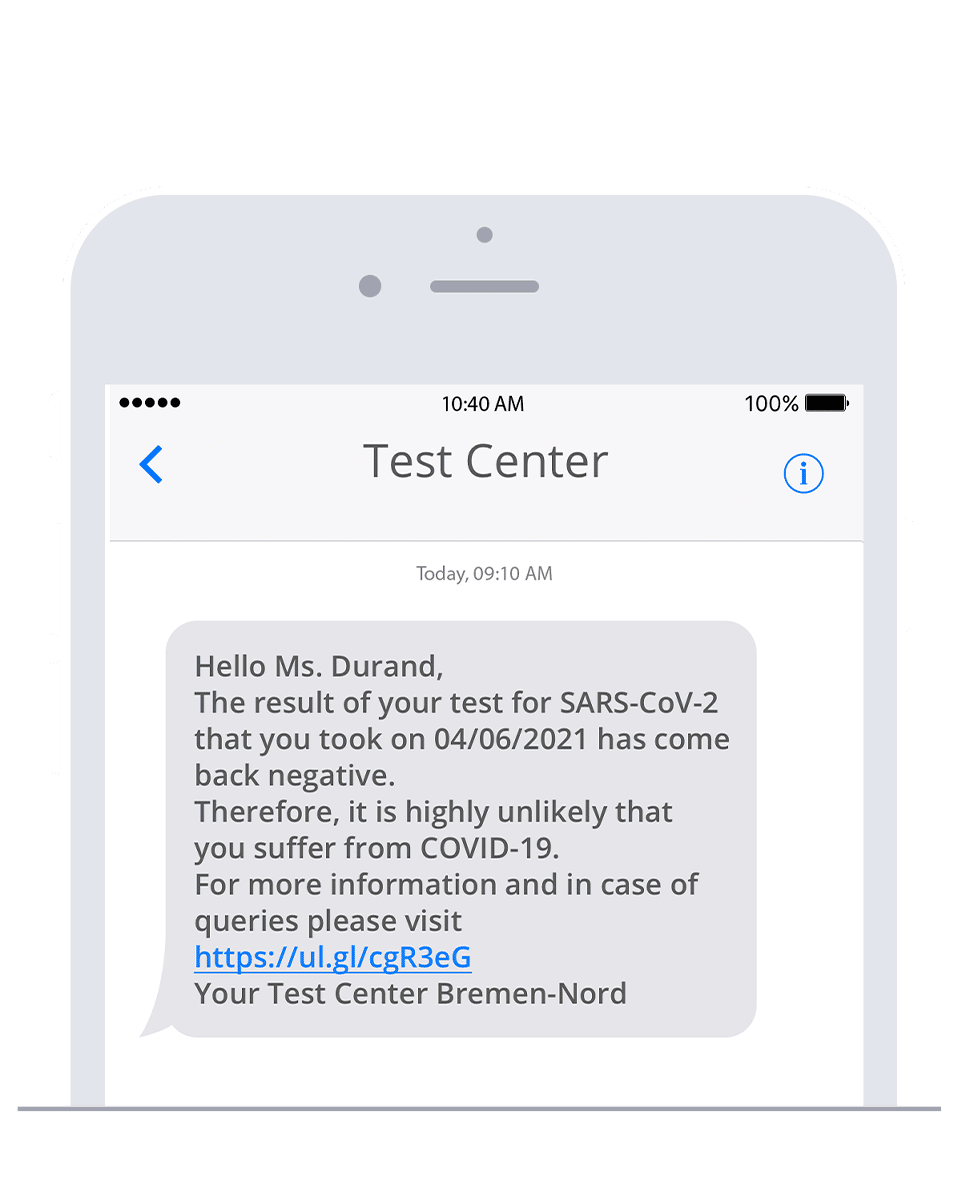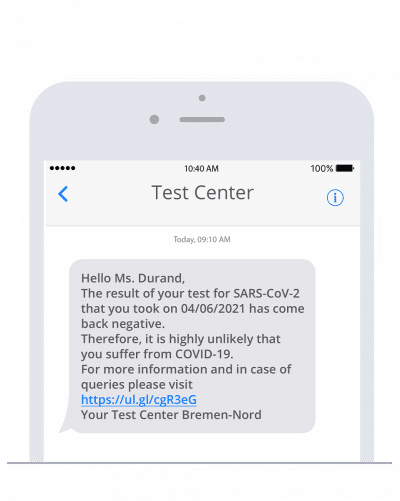 This is what an automated SMS could look like, informing a tested person of a negative test result.
SMS are read instead of ending up in the spam folder
Another big advantage of SMS over other media is that they are read very quickly. Receiving an SMS attracts more attention than other messages, especially than e-mails. As a result, SMS are not only read much faster, but also by many more recipients. For those affected, it makes a big difference how quickly they receive their negative test result. In short, the faster the test result is read after it is sent, the better.
SMS service provider requirements
You have decided to send COVID test results via text messages. Now you are looking for an SMS gateway that meets your requirements. There are many different SMS service providers, but not all of them are suitable for your purposes without restrictions. In addition to your individual requirements for the service provider, there are some general points you should consider when picking a service.
Server locations and data processing
At the latest since the introduction of the GDPR, data protection has also become the focus of attention on the Internet. Of course, there are also legal basics to consider when sending SMS. If you operate inside the EU, you should pay particular attention to the fact that the transmitted data is processed by the SMS provider in the EU as well. We would also like to advise you to choose a number for sending COVID test results via SMS that originates from the country where the tests are conducted. In most cases this is better from a data protection point of view and it is also much more reputable than sending via numbers from abroad.
Please note that you should discuss whether there are any other legal requirements for your individual use case with your legal counsel before selecting a provider.
You can have a look at our measures for compliance with the GDPR and our data processing agreement here: Data protection at seven.io
Reliability and performance
Two other important factors to consider revolve around the actual performance of the gateway provider. As mentioned earlier, it is obviously very important that the COVID test results text messages actually get delivered. Failures due to poor routes on the part of the SMS service provider or overloading of the system must be avoided at all costs. Keep in mind: especially if you run several test centers, it may be necessary to send several thousand SMS per day.
This is where the wheat is separated from the chaff. Look for a provider with a direct connection to the network operators, that can handle high throughputs without any problems. Be careful: very cheap providers often use inferior routes with high failure rates. Also, be sure to use a web service, not a GSM solution.
Find out why web services are better suited for professional applications with high message volumes in our comparison.
Easy connectivity and usability
Many applications are implemented under high time pressure to improve     the current situation as quickly as possible. Therefore, it is important that your SMS gateway provider is easy to connect and that setting up SMS dispatch involves as little effort as possible. Choose a provider whose API is well documented and who may already have integrations in place. This way you can also test most applications without a hassle before you finally decide on a provider.
You are not only looking for an SMS gateway, but for a full service solution for your test center? Essentially, the same requirements apply for this kind of software. Make sure that data protection requirements are met, that the scope of the solution meets your needs, and that it enables a reliable and effective workflow. For example, covidoo is a DSGVO-compliant and comprehensive software for test centers, which sends its SMS with test results via seven.io. covidoo is also connected to the Corona-Warn-App. Therefore, it is particularly easy to export the personalized or pseudonymized test results to the app if required.
Please note: covidoo is a German vendor with a German website. The software, however, is also available in English. Please contact covidoo for further information.
Send COVID test results: text messages as the straigthforward solution
If you take these important points into consideration when looking for a provider, nothing will stand in the way of implementing your solution for sending notifications after a COVID test. Not only is the sending itself straightforward, but you will also reach very large sections of society in a timely manner without any extra effort on the part of the recipients. This makes SMS the most useful medium for sending test results. Choose your SMS service provider and benefit from great time savings with higher satisfaction of the people who get tested.
Do you have any questions about sending SMS or about our service in general? Please feel free to send us an email!
Header: iStock.com/azatvaleev