SMS are versatile helpers in the jungle of independent work
If you are a freelancer or otherwise self-employed, you must have many strengths. Good organisation, flexibility and a talent for communication will accompany you through your complex everyday work. Surely you have already worked out some strategies to make your work processes easier for yourself. But have you already thought about employing SMS as your everyday helpers? We want to give you seven examples of how small text messages can make your work more pleasant and effective.
Minimize number of missed appointments
For personal trainers, music teachers, self-employed practitioners and all those who make appointments
So-called "no-shows" are not only a problem in the medical field. Virtually every industry in which fixed appointments are made in advance suffers from customers who ask for an appointment and then fail to show up. Personal trainers, coaches, music teachers and independent doctors can tell you a thing or two about this. The consequences of these appointment cancellations: Lost time and lost profits.
Perhaps you have already taken precautions against such cases and still get paid for these appointments, as many self-employed people do. But there is an easy way to avoid this situation to a large extent: Appointment reminders. Automatically send a reminder via SMS one or two days before the appointment to let your customers know when you expect them. Since SMS have a very high reading rate, this reminder will not be missed and you can plan your time more effectively. If your customers need to bring certain documents or equipment to their appointments, you can remind them of this as well.
Your advantage: You have a lower no-show rate and thus save time and money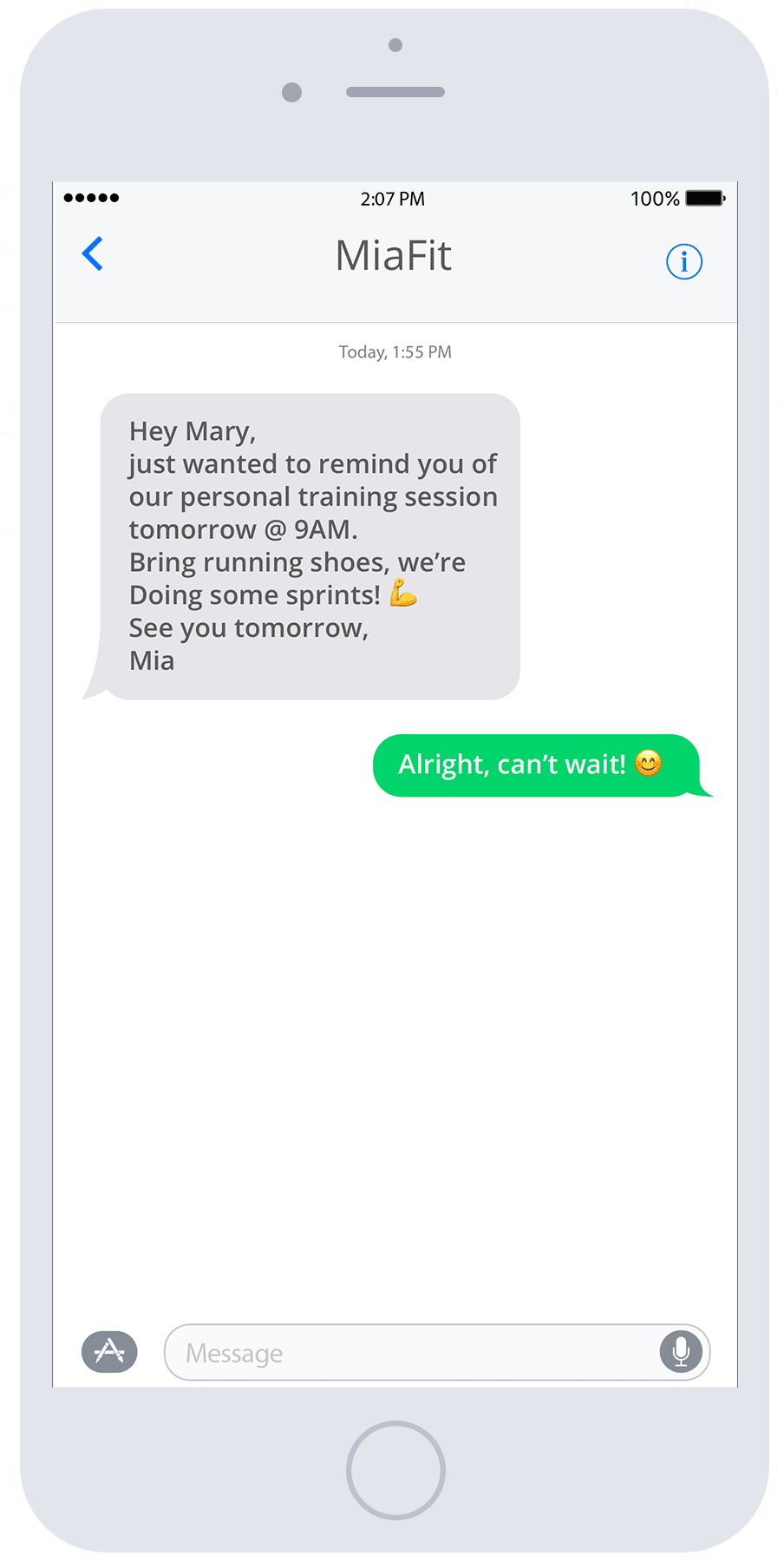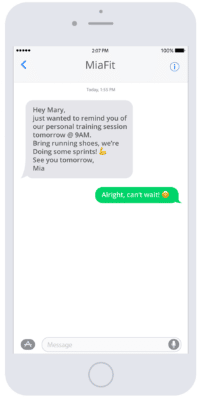 Order updates and evaluations
For graphic designers, photographers, programmers and all those who work on commissions
If you're self-employed earn your money by working on commissions or other orders, you can let your customers see the progress of the work with SMS. Especially if you accept orders online, your customers are always up to date when you send them an "started work on your order" and "order will be completed tomorrow" SMS. You can also send interim results, perhaps with a link to a protected folder, exclusively for your customer? Ideally, these intermediate status updates are scheduled together with the customer in advance, of course.
Once you have completed the order, you can ask your customer to rate your work on a platform of your choice. Simply send the link via SMS so that the rating can be submitted easily and conveniently.
Your advantage: Your customers are always informed and you promote customer satisfaction
Sending passwords and codes
For coaches, authors and all those who distribute digital products
Perhaps you do not sell physical products or commission-based work? If you sell digital products such as e-books, online coaching or memberships in closed communities, SMS can also prove useful in other ways. When your customers register for your course, download or other virtual product, you can send them their personal access code via SMS. This evokes a sense of legitimacy, because we are already used to receiving our access codes via SMS from other large companies.
A pleasant side effect: If you personalize the message with placeholders, your offer will be perceived as very exclusive and your service as particularly personal. This gives self-employed people a powerful way to build a relationship with their customers.
Your advantage: You are perceived as a serious business and stay in the customers' minds through an individual solution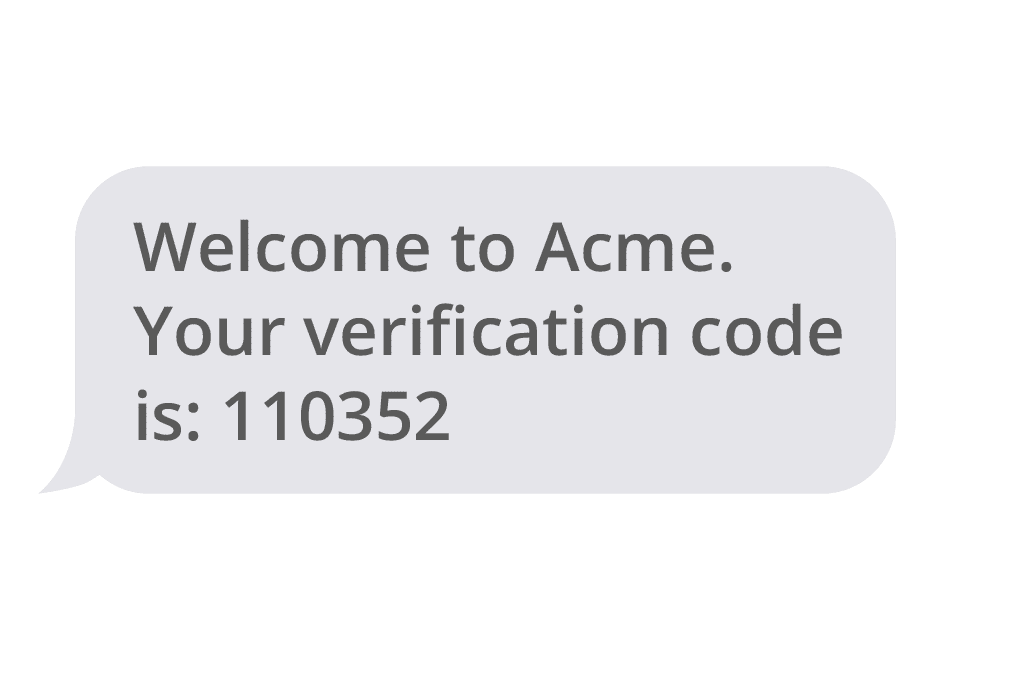 Two-Factor authentication
For all those who want to offer their customers additional security
If you offer products for which your customers have to register with their own user account, perhaps even in the Fintech sector, the option of two-factor authentication via SMS is also of interest to you. Here again, the advantage is obvious: your future customers know the procedure of authentication via SMS and perceive it as trustworthy. The procedure is particularly useful if your product is available via app or is an appitself. Customers do not have to switch between devices, but see their two-factor authentication code directly in a "push message".
Your advantage: You offer your customers an additional security instance without increased effort for the users
For those who write invoices
Let's be honest: There are nicer aspects of being self-employed than writing reminders because the last invoice has not yet been paid. How about sending an automated SMS when the invoice is due? If you wish, you can also send a link to the current invoice. Because SMS are read so quickly and do not get lost between hundreds of other messages (yes, we're looking at you, email!), it is more likely that your customers will respond promptly to this reminder.
Of course, SMS can also be used to point out overdue bills. However, please keep in mind that they do not replace an official dunning letter.
Your advantage: Fewer bills paid too late
For those who aim higher
Of course, as a freelancer or self-employed person you can also use SMS extremely effectively in marketing. There are opportunities in every step of the customer journey that you can take advantage of by using SMS. Offers sent via SMS look particularly exclusive to the recipients and are usually well received. However, SMS are especially useful when your business is still very young. Perhaps you are selling a product but do not yet have your own store? If you sell your product in pop-up stores, SMS are a perfect opportunity to inform interested customers that they can now experience your goods in real life.
Your advantage: You improve your CTR, your ROI and increase the conversion rate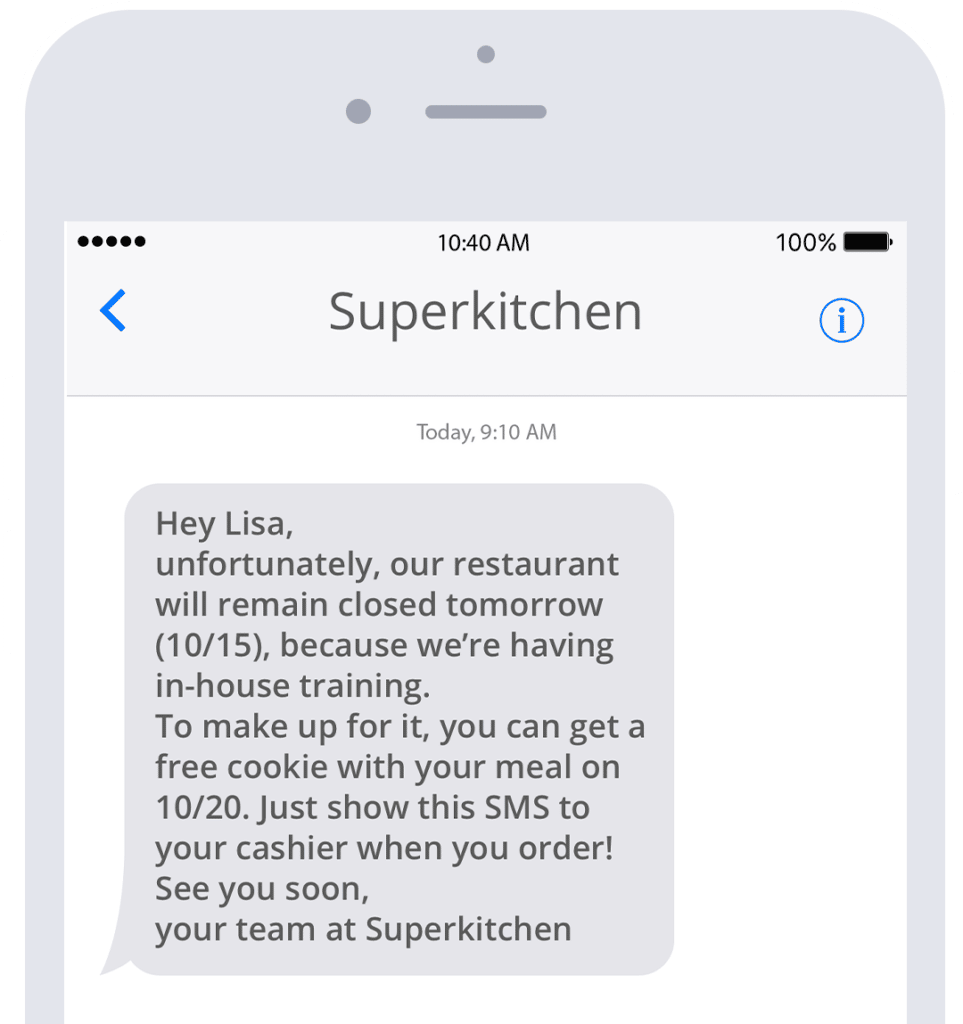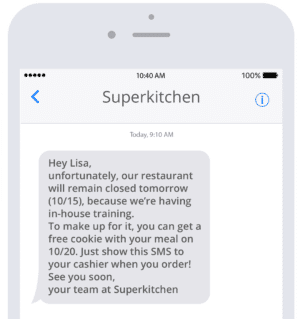 Mass SMS for sudden changes
For those who need flexibility
We do not need to tell you that being self-employed means that you are working all the time, everywhere. Nevertheless, you may have to announce spontaneous closing times or other important changes for unforeseeable reasons. Here, sending SMS can be very effective, too. Especially if you not only process orders but also sell goods or services, it is worthwhile to inform customers in time that their order will be delayed for one more day. Maybe your store has to stay closed on Friday? Offer your customers a small reward when they show the SMS at your store in the following week.
Your advantage: You communicate efficiently and transparently
In the flexible and demanding world of the self-employed, a reliable partner like SMS is extremely valuable. The undeniable advantages results from the fact that SMS reach the recipients regardless of mobile phone type, operating system or app usage and that they are read very quickly. So you can reach as many of your customers and clients as you wish in a very short time period. You can use SMS in flexible ways, from simple notifications to mass SMS to two-factor authentication. The sending can be adapted to your needs. What do you think? Is it worth a try?
Are you self-employed and have a very specific use case in mind that is not listed here? We'd love to hear your thoughts in the comments below.
Source of header picture: iStock.com/Alekseyliss