Why are SMS particularly great for sending app links, and which three ways can we recommend?
You have developed an app that will revolutionize the market! You have invested time and heart and soul, developed, tested, improved and now you are finally ready to make the app available to the masses. In order for as many people as possible to hear about your app and preferably try it out right away, you want to invest in marketing. Our tip for you: enrich your marketing strategy and use SMS! Let's look at three ways you can spread the word about your app via SMS – easy and effectively.
The basics
Before we get to the three ways, let's talk about the basics for a moment. Especially if you're sending SMS messages to potential customers for the first time, you should thoroughly research your recipients. Let's also start by clarifying two basic questions:
Why would you send a link to your app via SMS? Who are you allowed to send SMS to?
SMS are great for your purposes for one very simple reason: if your prospective users only have to click a link, you will have a much higher download rate than if you just mention the app. Since the SMS is delivered to the smartphone, the path to download is particularly short. In short: SMS is simply a logical medium to deliver app links. A pleasant side effect: SMS are considered more trustworthy than other messages. This circumstance also has a positive effect on your download figures.
This trust in SMS has its reasons: There are legal requirements under which conditions you are allowed to send SMS to potential customers. We recommend that you inform yourself thoroughly in advance. You can find a first overview in our blogposts on legal basics in SMS sending and the most important info on international SMS sending. The most important rule to keep in mind at the beginning is: only send SMS to recipients if they have explicitly agreed to the SMS dispatch or even requested it themselves.
Best practice in text messaging
Only ask for relevant information
Use a double opt-in
Send the SMS immediately after gaining consent (or as soon as possible)
Inform recipients of additional SMS if you want to send more messages after sending the link; and
In this case also make sure they know how to opt-out

Make it clear to recipients what the purpose of the provided link is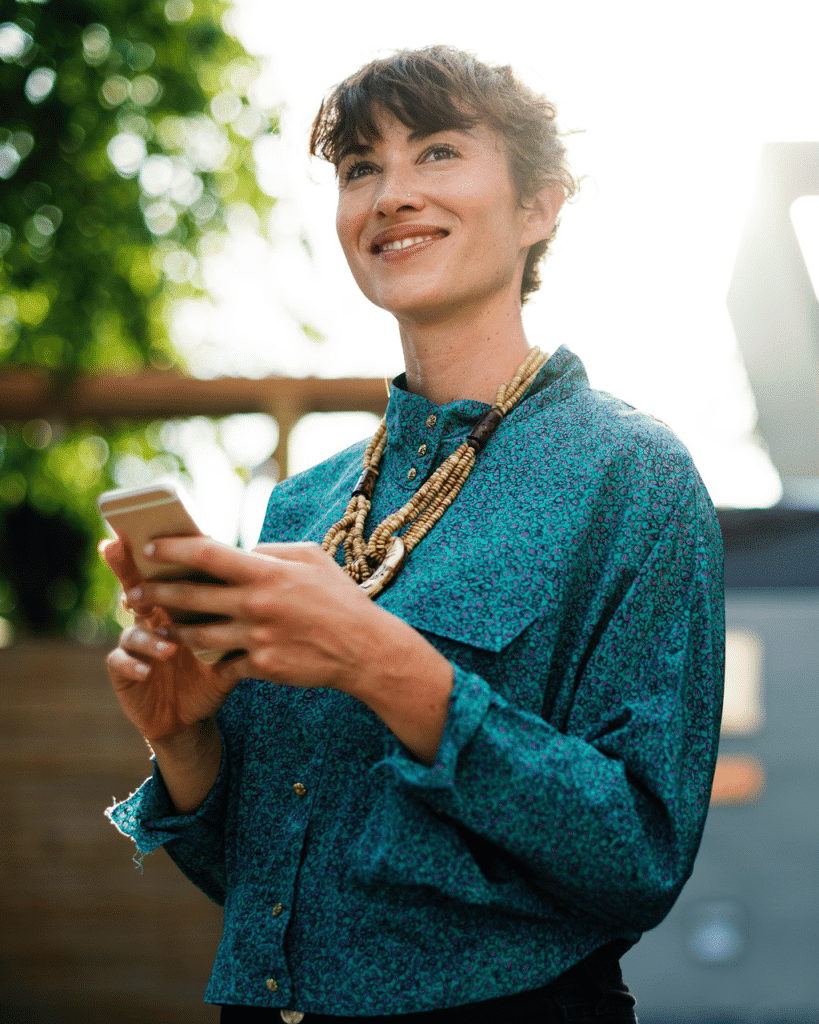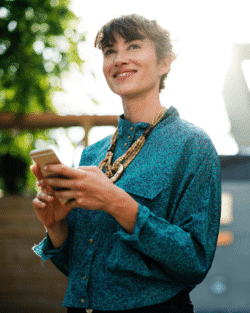 Make sure your users have a positive experience
Personalized address
Personalized messages have become a staple in marketing. Because of the personal, familiar touch that SMS messages bring, we recommend that you also provide this particular SMS with an individual address. For example, if you want to address your recipients by their first names, use a placeholder for the first name when creating your SMS. If you want, you can also create individual placeholders through custom fields that suit your needs. Then, when you send the SMS to many recipients at once, the appropriate first name will be used for each contact.
How exactly you should send links to your app – our three tips
Now you are ready to send the link to your app to interested potential customers. That means you need to decide how to handle the challenge of your recipients using different operating systems. Here, we'll show you three popular and useful ways to get customers to the platform that's right for them. Which one is right for you depends on your preferences, technical and financial capabilities, and also your customers. Often, more than one of these three ways is combined to reach recipients in the best possible way.
1. Segment customers
One way to send your recipients the link that is right for them is to segment your customers in advance. This is where you use existing data to assign customers to a specific group. In this particular case, you would create groups for iOS, Android, Windows Phone, or another mobile operating system. This way, you can target the individual link to the respective app platform. If your app is not yet available for one of the operating systems, you can send reminder SMS messages that inform customers when your app is released.
Pros: Easily implementable if customers specify their operating system during signup. It can't happen that customers receive an SMS even though the app is not yet available for their particular operating system.
Cons: If customers do not specify their operating system on their own, the approach is hardly feasible.
2. Link Forwarding – Dynamic Links
This is the most elegant way to send your link. Through a third-party provider, you can have a dynamic link generated that will automatically forward your recipients to the platform that is relevant to them. This way, you end up sending a single, identical link to all recipients. They open the link, the third-party provider recognizes the relevant operating system and forwards the request to the appropriate platform. With some providers, landing pages can also be stored, which serve as a fallback option should your app not be available for the customer's operating system.
Providers include branch.io, 1link.io, and onelink.to. Please note that we do not take any responsibility for the use of these services and have no connection with them. The providers also differ in their payment models. Of course, there are many other providers out there. Inform yourself thoroughly before you decide on one of them.
Pros: Very convenient for recipients, you have to query less data in advance, possibly less effort for you.
Cons: Of course, another party means additional risk. You definitely need to find out about the company providing the link and, if in doubt, inform your customers about the company's involvement before they enter any information.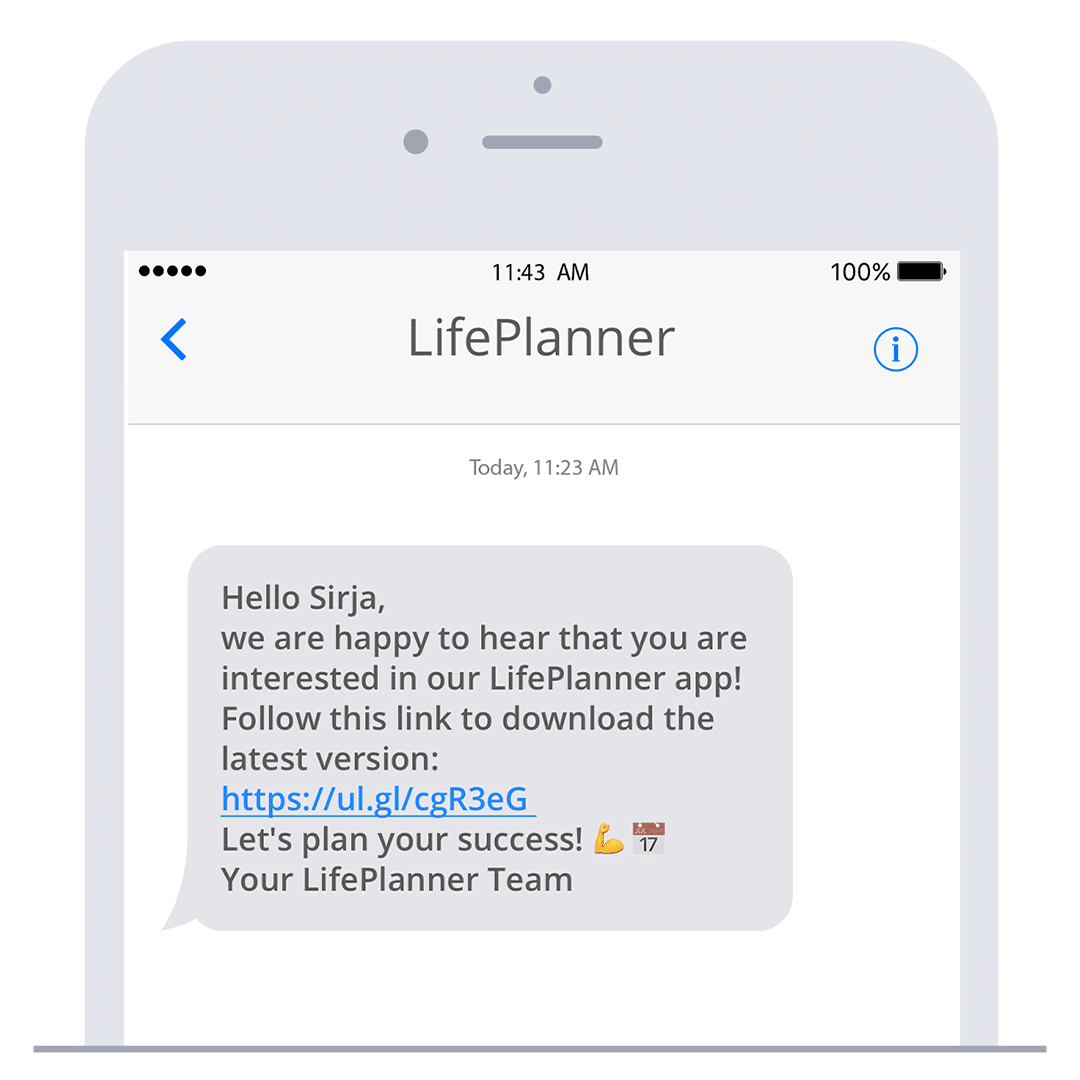 3. Landing page
The third useful way to send a link to your app is to use a landing page. In this case, you also send only one link to your recipients, who are then all led to this very landing page. On this page, you then list the different platforms on which your app is available and your potential customers choose for themselves which one applies to them. For customers whose operating system is not yet supported, you can also offer an additional reminder function here.
Pros: Your landing page supports your branding, there are no additional costs for you.
Cons: Customers have to complete an extra step to download the app.
For your analysis – Performance Tracking
Of course you want to know how successful your marketing activities are. That's why you can track the links sent through us with our Performance Tracking. It allows you to measure how often a recipient clicked your sent link. Additionally, if you link to your own landing page, you can use our Conversion Tracking, which shows you how often a conversion was made. Quite especially if you are testing several of the ways mentioned above, you will benefit from the insights that Performance Tracking provides.
Customized solutions for your marketing mix
As you can see, our three most popular ways to send a link to your app all have their pros and cons. Which of the variants best suits your project depends entirely on your individual circumstances. In most cases, however, it should make sense to test several variants, if your budget allows you to do so. In the end, all that matters is that your potential customers can find their way to the app without any problems. If you follow the best practice recommendations for your campaign, there's hardly anything that can go wrong!
We hope that your campaign will be as successful as you want it to be!