SMS-Alarm: Ready to use
Above all, rescue teams of all kinds like to use our service. Fire brigades, emergency physicians, paramedics or volunteer services can thus switch an additional secondary alarming and so improve their accessibility. Unlike the beeper, the SMS goes directly to the phone and is displayed immediately. The respective end devices don't require special prerequisite, especially since even older models are able to receive SMS without any problems.
Likewise, your hardware doesn't have to meet any special requirements, but you can send directly via the online access on our website. In addition, we offer you various interfaces via which you can combine our service with your own program. In that case, you can keep your custom configurations while using our modules.
Your advantages
In your account and also via gateway API you have numerous possibilities by means of address book, log book, status report and many other features to manage your alerting system optimally. We've paid attention to an uncomplicated and, above all, modern intuitive usability so that you can start immediately.
Starting with seamless integration up to scalable applications, advanced developed tools are available for you. In particular, our seven-cli performs an excellent service in the field of fire brigades & rescue:
Send SMS directly via the command line
You can define parameters when calling or save them as a config file
The error level gives you direct feedback on the successfully sent SMS
Thanks to the direct connection between seven-cli and the SMS Gateway, the messages are sent as fast as lightning
Additional secondary alerting of rescue teams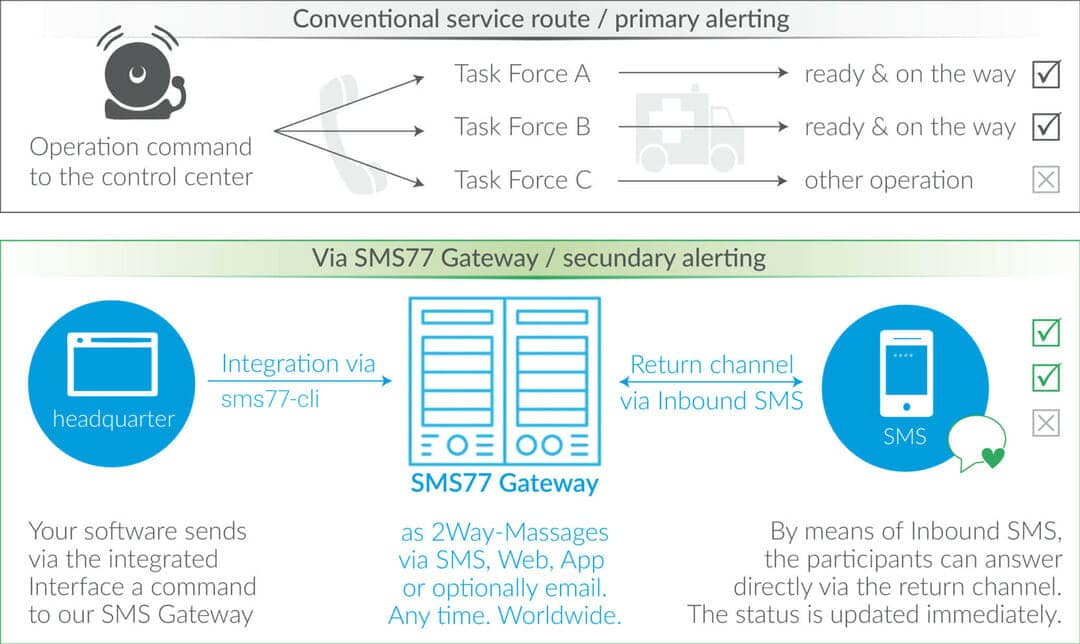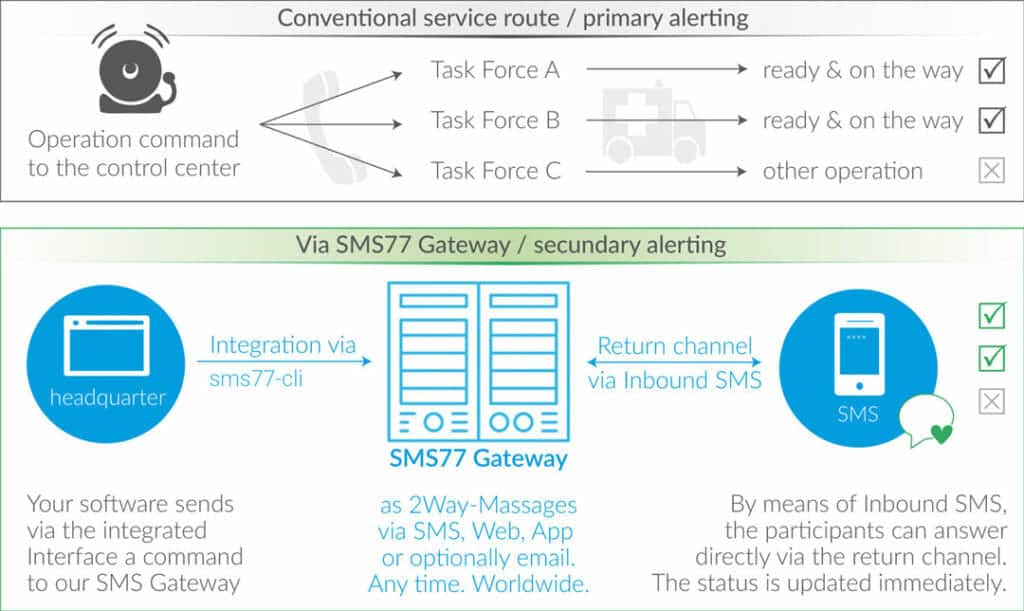 Transparent and fair – Prices to send SMS
Simply top up your credit balance and pay only the SMS you send. There will be no additional costs for you. All features like the API, Email2SMS etc. are available free of charge for each account.
Direct SMS
0,075 €per SMS*
Worldwide sending
Own sender
Free response
Port numbers
Delivery report
Flash SMS
Unicode messages
100% Guaranteed delivery
*All prices plus 19% VAT. The prices are valid for a sent SMS with 160 characters. Messages with more than 160 characters are calculated according to the number of sent SMS, in which for each SMS message 8 characters less are available. An SMS with e.g. 310 characters would thus be calculated with the triple SMS price. For SMS with unicode characters, i.e. characters which are not included in the standard GSM alphabet (e.g. cyrillic, arabic, etc.), only 70 character per SMS are possible. The price above then applies to 70 characters. No transmission to special phone numbers.
Learn how other rescue services implement SMS: