How to improve every step of the customer journey with SMS
Summer, sun, going on vacation – even if holidays in far-away countries fall through for most of us this year, we still love the well-deserved time off in summer. But who are we fooling, if you are a marketer you know: The Customer Journey has nothing to do with holidays, but with the steps your potential customers take until they decide to buy your product. Nevertheless, there are some parallels to an actual journey and with the help of SMS you can accompany your customers from the very beginning.
Preparing for the trip
Before you can accompany your customers on a journey, you first need a boarding pass. Not many companies have the privilege of being able to message their customers, let alone leave textmessages on their phones. So how do you get into the happy position of being able to reach your customers virtually anytime and anywhere? There are, of course, different ways to get your customers' numbers. With all the following possibilities, we recommend that you use a double opt-in to make sure that your SMS are actually welcome. This double-opt-in message also needs to explain in detail what the recipients should do to unsubscribe from your SMS list.
Your boarding pass
Let us first talk about two rather similar possibilities: In the first case you want to use numbers you already have, in the second you want to request numbers during an order process. In both cases, you should communicate clearly what you want to use the number for and what your customers expect. We think that obtaining consent is the best way to do this, but there are other options. Keep the following in mind: SMS are a very personal means of communication. This means that if your customers give you their number, you will have a unique opportunity. Therefore, it is especially important that you not only explain that you will be sending SMS, but also what kind of content the customers can expect.
Promotions and competitions
It is more likely that you want to get to your customers earlier in the customer journey. You want to receive numbers from people who are not yet customers of yours. Again, there are several options. For example, it is always a good idea to combine the search for numbers with attention-grabbing campaigns. A lottery or giveaway is particularly attractive here. Most often your future customers will be more willing to give out their numbers if they get something in return. Again, communicate clearly what you want to use the number for, otherwise the bounce rate will be very high and in the worst case you will get legal problems. Ideally, both sides will benefit from this exchange.
Outdoor advertising and other classical advertising measures
You can also collect numbers with outdoor advertising. This method is particularly clever because it virtually requires the consent of the customers and minimizes wastage if you place them in the right places. For example, you can have certain keywords sent to a number or use QR codes. If potential customers can be added to your distribution list in this way, you can expect very high click-through rates. If you are now asking yourself whether or not QR codes are outdated and disreputable in marketing, take a look at these great examples.
You've made it! At this point you are able to accompany your customers on their journey. Your next goal is to not only support your customer in each phase, but also to help the transition to the next one. We would now like to show you what this can look like.
Advertising – The early check-in
You have reached the next stop of the journey: you have your boarding pass and are allowed to check in. But what messages should you bring with you? Obviously, the better you know the recipients, the better you can tailor the messages to them. SMS are particularly suitable for offers that have an exclusive character. For example, you can send a discount code for the first order or point out a particularly attractive special offer. You would like to have customers come by your store in real life instead? Send messages that offer a discount or similar benefit if the recipient shows the text message at your preferred store.
As with any personal advertising, caution is advised. Again, not many brands have the privilege of sending personal messages to their customers and you should keep this in mind. Do not send messages too often and make sure you send them at a reasonable time. You should also only send information that is relevant to the recipient. It is therefore essential that you know your target group well.
If you follow these tips, your SMS advertising campaign is likely to be more successful than most of your other campaigns.
Speaking of campaigns: When you manage an advertising campaign via SMS, you want to measure how successful it is. If you include links to your offers in your SMS, you can use our performance and conversion tracking.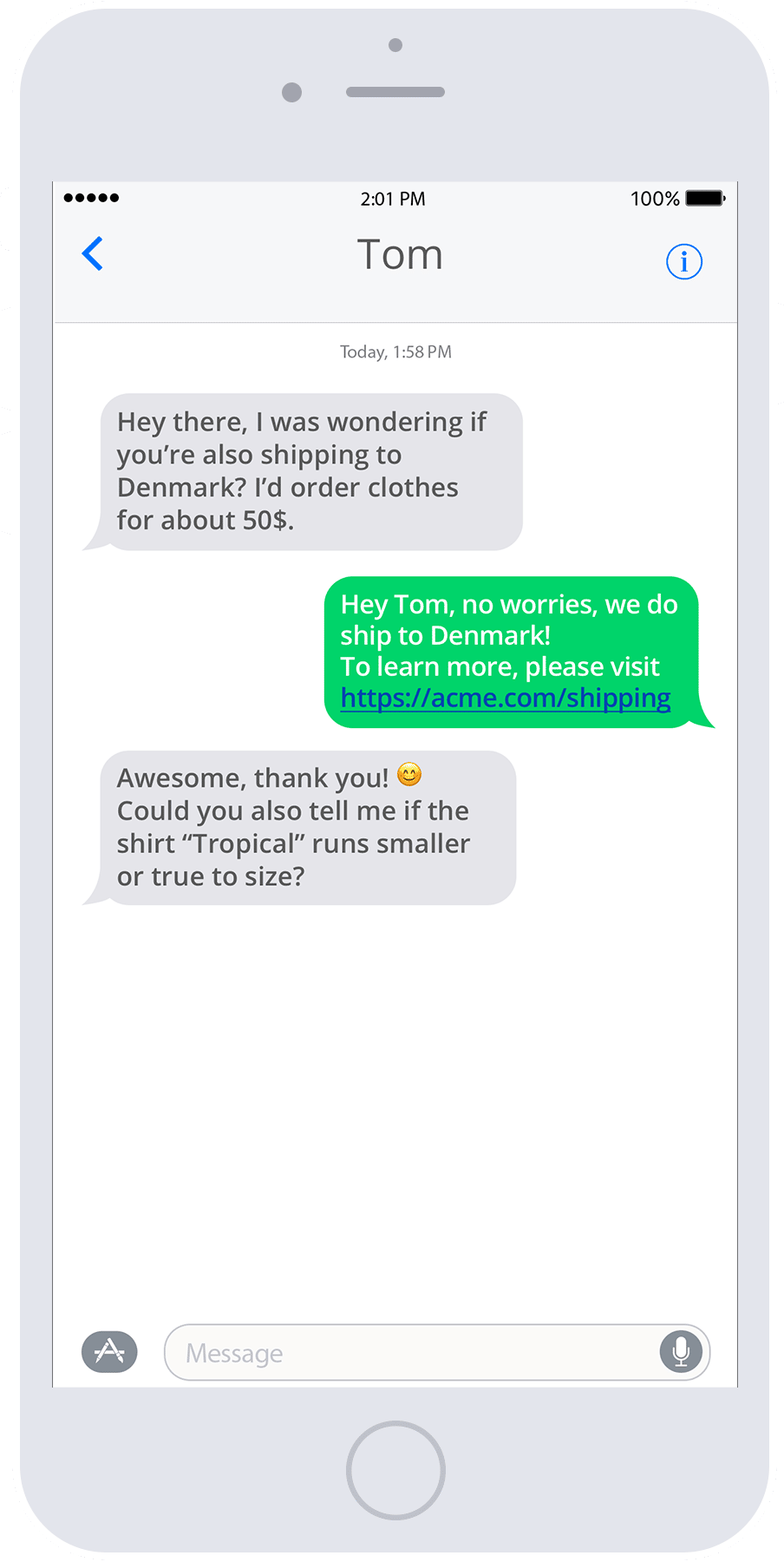 Consultation – The boarding
Whether the customer decides to continue their customer journey together with you depends to a large extent on the belief that your company is the right choice for them. But how does the potential customer figure this out? In case of doubt: By asking you for advice.
Even though online shopping is booming, personal advice is still a decisive factor when it comes to selling. Many customers also want a personal consultation online. Since a large part of sales takes place on mobile, you need to provide support via these devices as well. At the same time, the possibility of asynchronous communication should also be available, because the younger generations in particular appreciate being able to decide for themselves when they want to communicate. Asynchronous communication means that the conversation with your customer is not taking place in real time. Instead they answer whenever they have the time.
You may now be thinking of using WhatsApp Business. It is an obvious choice given the popularity of the messenger in Germany. However, the use of this messenger for customer service is questionable in terms of data protection law. You can only comply with the DSGVO regulations when using it with the help of expensive third-party solutions. SMS, on the other hand, can be used in conformity with data protection regulations and are also suitable for mobile, asynchronous communication. They are also at least as personal as messages sent via messenger services.
Order, Payment, Delivery – The lift-off
We all know the drill: We order something and we promptly receive an e-mail confirming the order and payment. If all goes well, we also receive a shipping notification shortly afterwards. If you want to be remembered by your customers, you can also send these messages via SMS. Moreover, this ensures that your customers do not miss these notifications in a flood of mails.
With the notification of imminent delivery, your customers are also always up-to-date, because 90% of the SMS are read within the first three minutes after receiving the message. Just like this, you will increase customer satisfaction in the process.
Customer service – A pleasant flight
SMS can prove to be particularly useful in customer service. By asking if the customer is happy with their order, you show that you care about them  beyond the point of sale. This little nuance can make the difference between a good and a great buying experience. It also lets you know very quickly if something did not work out with the order or if the customer is dissatisfied for other reasons. This allows you to turn a negative experience with your business into a positive one before it's too late. Of course, you can not only use this strategy when you sell physical products. Even if your customer uses a service, a simple follow-up question can reveal a lot of useful information.
Customer loyalty – Landing safely
So, the flight is almost over and you are coming in to land. But the customer journey does not have to be over here. With a bit of effort (and a bit of luck) your customers become loyal to your brand and buy from you again. To support this, you can set incentives via SMS. An exclusive discount code can encourage a customer who is still hesitating to order the items she has been looking at for days. Of course you can also send your customers your latest offers. However, you should definitely make use of the personal touch of SMS. Adjust the offers to the buying behaviour of your customers. A personal approach always makes for a more personal relationship.
Advocate – Tell a friend
If you are lucky and can fully convince your customers of your product and perhaps even your brand itself, you have gained particularly valuable relationships. Not many companies have customers reach the final stage of the customer journey, where they are loyal to the company and may even become advocates. You can support this phase of the customer journey via SMS and create great benefits for yourself. How about you ask customers to rate you on a platform of their choice after they have placed another order? You can include the link to the relevant platform in the SMS, so that recipients only have to click and rate.
Maybe you would like to offer special incentives to especially loyal customers? Send them a sharable link that exclusively gives ten friends a discount on their order. You do not always need expensive influencer marketing. Let the people who are already convinced of your product speak for you.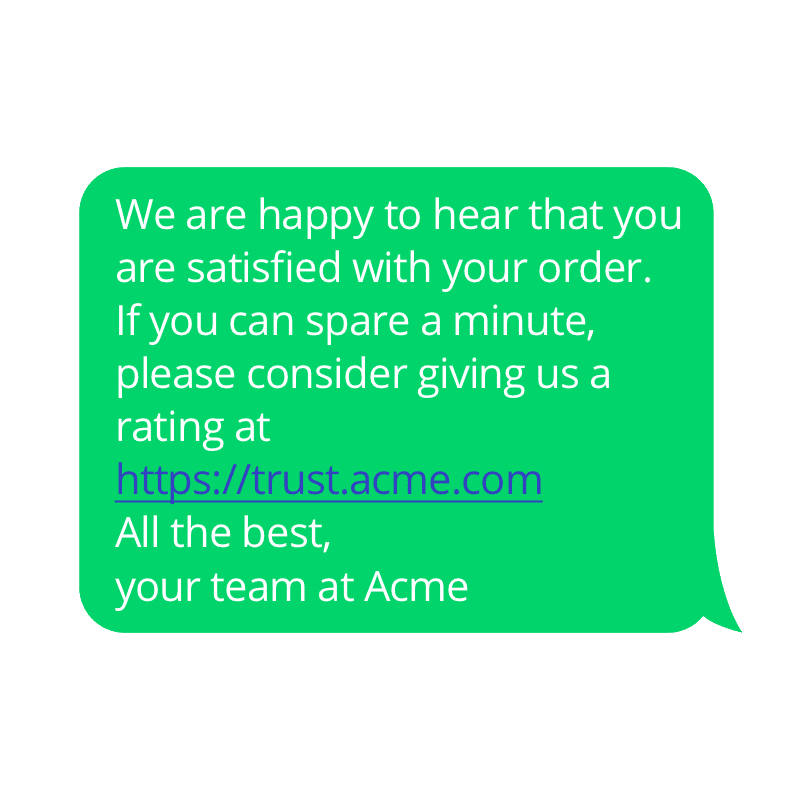 A successful journey
So, we made it through!  This was your customers' journey on which you supported them by SMS. If they made it to the last stop of the journey, you can proudly claim to have gained loyal customers, whom you can hopefully keep for a long time. The private character of the SMS and the possibility of personalization reinforce the positive effect of constant communication in all phases of the customer journey. Because you can reach virtually any customer with the short messages – regardless of the type of mobile phone or preferred app – you also leave no customer behind.
We wish you a pleasant journey!
Source of header picture: iStock/guvendemir